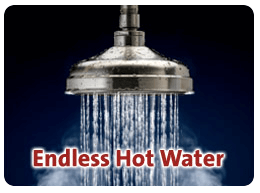 1. Hot Water "On Demand"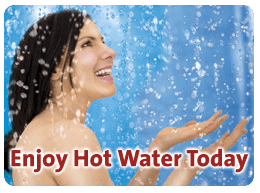 With a correctly-rated tankless water heater, you can rest easy knowing you'll never run out of hot water half way through a bath or shower again. The tankless system works by only heating water when you need it. When someone in the house turns the hot faucet on, water is instantaneously heated . Providing reliable hot water for all the family, any time of the day or night.
2. Lower Energy Consumption and Utility Bills
Tankless water heaters are incredibly energy-efficient as they only heat the water you actually use rather than keeping a whole tank ready and waiting, reducing your energy consumption and lowering your utility bills. A tankless water heater can help you save year after year.
3. More Space for your Home
Without a tank to store and with their compact size, a tankless water heater frees up space that can be used for other storage.
4. The Best Tankless Systems
We'll ensure you get the perfect tankless water heater for your needs and budget.
5. Increased Durability
Without a tank that requires maintenance and is prone to rust issues, your new tankless water heater has the potential to last years longer than conventional tank heaters.
6. Best Warranties
Gain the additional peace of mind that comes with the best manufacturer's warranty as well as a warranty on all Birnie & Sons Plumbing workmanship
7. Expert Tankless Installations
We'll ensure you get the most out of your new tankless water heater with an expert installation for you to enjoy years of reliable hot water.
8. Fully Licensed and Insured, Trusted Over 100 Years
Birnie & Sons Plumbing is completely licensed and insured for all your tankless and hot water needs.
For all your tankless water heater installations and obligation free quotes, for your home in Hamilton and across the Golden Horseshoe, call and speak with the tankless hot water experts at Birnie & Sons Plumbing today.