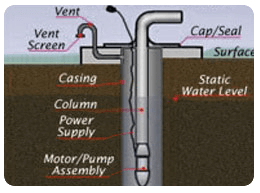 1. Comprehensive Well and Well Pump Services
Our comprehensive well and well pump services include:
Shallow and Deep Well Jet Pump Sales, Servicing and Installations
Submersible Well Pump Sales, Servicing and Installations
Pressure Tank Sales and Servicing
Ultraviolet Light Purification Sales, Servicing and Installations
Water Testing
Water Purification and Softening Solution Sales, Servicing and Installations
Well Recovery Testing
On-Site Camera Inspections
Well Head Location Services
Pit-Less Adaptor Repairs
Water Pump Water Supply Line Installations
Cistern Flow Controls
Short Term Cistern Rentals
Electrical Wiring Upgrades for Well Pumps
2. Fast, Convenient Well Maintenance Service
We can be with you quickly and at a time convenient to you.
3. Expert Repairs
With the experience and knowledge to perform expert full diagnosis and repairs of any issue with your well pump system.
4. Professional Regulation Installations and Updating
We provide professional, quality installations and can upgrade your existing well to meet all regulatory code requirements to meet the Ministry of Environment regulation codes and standards.
5. Up-Front Pricing
All our pricing is calculated on a per job basis and given to you in advance of any work commencing to allow you to make an informed decision.
6. Workmanship Warranty
We back all our workmanship with a written warranty as your assurance of quality.
For all your well and well pump installations, repairs and solutions in Hamilton and across the Golden Horseshoe, call and speak with the friendly professionals at Birnie & Sons Plumbing today.